Michael Traub ND, DHANP, FABNO, is founder and medical director of Lokahi Health Center in Kailua Kona, Hawaii since 1986.  He is Past-President of the American Association of Naturopathic Physicians and was awarded the AANP's Naturopathic Physician of the Year award in 2006. He currently serves as Treasurer of the Oncology Association of Naturopathic Physicians, and an advisory board member for Kamedis, Dermveda, Nutritional Fundamentals for Health, Gaia Herbs, and Nordic Naturals.  The Vis is an integral component of his clinical and spiritual practice.
Walter J. Crinnion, ND, received his Naturopathic Doctorate as a part of the first graduating class of Bastyr University in 1982. He maintained a private practice while simultaneously holding associate professorships at Bastyr University, SCNM, NCNM and University of Bridgeport where he taught geriatrics and environmental medicine. He was a professor and department chair for Environmental Medicine at SCNM from 2003 to 2013.   He has served as an editor of the environmental medicine section of Alternative Medicine Review and has been a reviewer for several scientific and medical journals including The New England Journal of Medicine. Dr. Crinnion is a staunch advocate of environmental medicine and is the author of the book Clean, Green & Lean: Get rid of the toxins that make you fat. He appeared on The View with Barbara Walters three times to discuss these issues. He has recently authored, with Joe Pizzorno ND, the textbook of Clinical Environmental Medicine published by Elsevier.
Hilary Farberow Stuart, ND, graduated from the National College of Naturopathic Medicine in 1987.  As a Naturopathic Physician, she has specialized in the psycho-spiritual treatment of physical disease, and over the past 31 years in practice has developed a system which allows for the understanding and exploration of the human being beyond the physical body, through a multi-level model.  She called this system "Wholehearted Healing" (although the name is about to change). With a BA in Psychology, certification in Healing From the Body Level Up, NLP and other forms of Energy Psychology, as well as training in Clinical Hypnotherapy, Cranial Sacral Therapy, and Enneagram graduate study, Hilary also completed the Nondual Training for Teachers and Therapists course and is a coach in Radiant Mind with Peter Fenner, Ph.D.   Dr. Farberow Stuart is one of the founding members of the Naturopathic Psychospiritual Collaborative, and served as Secretary on the Board of the Center for Nondual Awareness.  She recently spoke and presented original research at the International Congress of Naturopathic Medicine in London.  In Portland, she works in private practice, teaches "Wholehearted Healing, a Map of the Human System", and "The Dance of Light" an art workshop.  She gets great joy from her family, friends, art, Zumba, and her wonder dog Riley.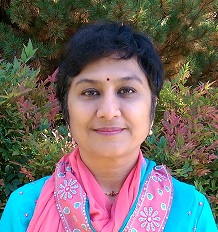 Savita Rajurkar MD, PhD, ND (India) is an accomplished professional in the fields of Ayurveda, naturopathy and yoga. She holds a doctoral degree in Ayurveda, a master degree in alternative medicines, a post-graduate diploma in naturopathy, and a bachelor degree in Ayurvedic medicine and surgery. She has 25 years of experience in patient care, teaching and mentoring students. Dr. Rajurkar frequently conducts workshops on occupational stress and health management for professionals such as police officers, teachers and corporate executives. She is a renowned teacher on Sanskrit Hindu scriptures such as the Bhagavad Gita. She has received awards for her contributions in drug and alcohol rehabilitation and cancer prevention awareness. As the Ayurveda program lead at NUNM, Dr. Rajurkar oversees the program and curriculum development for the Master of Science in Ayurveda program. She also teaches elective courses in Ayurveda in the Master of Science in Nutrition program. Holistic health, meditation and Vedic literature are Dr. Rajurkar's passions. She has authored two books on child health, lifestyle and nutrition. In her spare time, she enjoys culinary arts, singing Indian classical music and painting.
Paul Epstein, ND, graduated from the National University of Natural Medicine (NUNM) in 1984. His post-graduate residency program focused on preventive medicine and lifestyle counseling.  He was the Co-founder and Co-director of the Israel Center for Mind-Body Medicine in Ramat HaSharon, Israel. As a physician, Dr. Epstein practices Contemplative & Mind-Body Integrative Medicine which integrates naturopathic medicine with life-changing mind-body therapies.  In addition to his private practice in Westport, CT, Dr. Epstein travels worldwide lecturing, teaching and offering workshops and retreats. He serves on the faculty of the Interprofessional Fellowship in Integrative Mind-Body Medicine at the Academy of Integrative Health and Medicine (AIHM). Dr. Epstein's passion for "Mindful Healing" includes mentoring health care professionals and students to integrate and blend Contemplative & Integrative Mind-Body Medicine into their own practices. In addition to many published articles, he is also the author of the book, "Happiness through Meditation." For more information, please visit: www.drpaulepstein.com
Roy Huggins, LPC NCC, is a counselor in private practice who also directs Person-Centered Tech. Roy worked as a professional Web developer for 7 years before changing paths, and makes it his mission to grow clinicians' understanding of the Internet and other electronic communications mediums for the future of our practices and our professions. Roy is an adjunct instructor at the Portland State University Counseling program where he teaches Ethics, and is a member of the Zur Institute advisory board. He has acted as a subject mater expert on HIPAA, security and clinical use of technology for Counseling licensure boards, and both state and national mental health professional organizations. He has co-authored or authored 2 book chapters, and he routinely consults with mental health colleagues on ethical and practical issues surrounding tech in clinical practice. He served for 5 years on the board of the Oregon Mental Health Counselors Association and then the Oregon Counseling Association as the Technology Committee Chair.
Misha Kleronomos, PsyD, has been a licensed therapist for 19 year.  She has worked in a variety of settings from working with families and children and adolescents with behavioral and mental health disorders to adults in a hospital setting to private practice.  Most recently, she and her husband Dr. Chris Kleronomos owned and practiced within the Fibromyalgia and Neuromuscular Pain Center, specializing in Fibromyalgia and Chronic Pain conditions. She treated the psychological aspect of their patient's pain while he treated the medical side.  Dr. Kleronomos has also taught psychology full time at OSU since moving to Oregon 9 years ago. She is currently writing a book on disconnecting from toxic family relationships, and working toward publishing her research on Fibromyalgia and trauma. In addition to pain and health conditions, Dr. Kleronomos' specializes in anxiety disorders, trauma, depression, obesity, mindfulness, and health and nutritional changes. The foundation of her practice is utilizing cognitive behavioral therapy, while also tailoring each session to the individual patient using psychodynamic approaches, mind body medicine, and mindfulness training. Dr. Kleronomos has two teenage boys. She enjoys outdoor activities, spending time with family, and is a self-described "fitness nut".